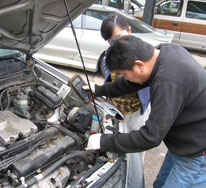 Tao's Auto Service is your complete automotive service center. We strive to give you the best service, price, parts, and honest service. Our highly experienced team and the latest in automotive diagnostic technology will ensure that your vehicle will be fixed right. Our services will increase the life of your car, save you money, make your car safer, and have your car working like new.
With over 20 years of experience working in Pittsburgh area dealerships and automotive service companies, and a college degree in Automotive Technology, Tao has honed and perfected his skills and knowledge in automotive diagnoses and repair to both foreign and domestic cars. During the last ten years, as a professional mechanical technician, Tao passed a variety of state licensing tests and currently holds the ASE Master Technician automobile certification.
Customers can bring their cars into the shop before they start work in the morning. They can even drop their car off before the shop is open by dropping their key into a drop box. We offer courtesy pick-up and drop-off service for our customers and their cars. Call for additional information about this service.